5 Hungry People on a Road Trip for One simple purpose - TO EAT!
What was supposed to be a Malaysian Kelong Weekend Escapade turned out to be Malacca Food Day Road Trip! As usual, getting consensus for a Date, Cost and Program amongst a not so young bunch of people proved almost impossible to organize. It was eventually, the monsoon that sealed our decision that January wasn't the right time for a Kelong Trip. Since the date was already reserved, we settled for a Road Trip. And when it came to FOOD, everyone had a suggestion or two about what they wanted dig into after two butt warming hours in the car. As far as I can remember (excluding those family road trips when I was little), I visited the historical Malaccan town in
2007 with the Singapore Women's Cycling Team (SWCT) on a 250km ride for Hearts On Wheels (H.O.W) Charity
and probably a decade earlier with Esther, Charles and Pris.
The Food Trail:
10:30am - Breakfast Pitstop
Somewhere between Tuas and Malacca
You cannot expect much from a stop-over break. Expect however, sub-standard food at semi-reasonable pricing of which a portion of the cost goes to the availability for you to use the toilets.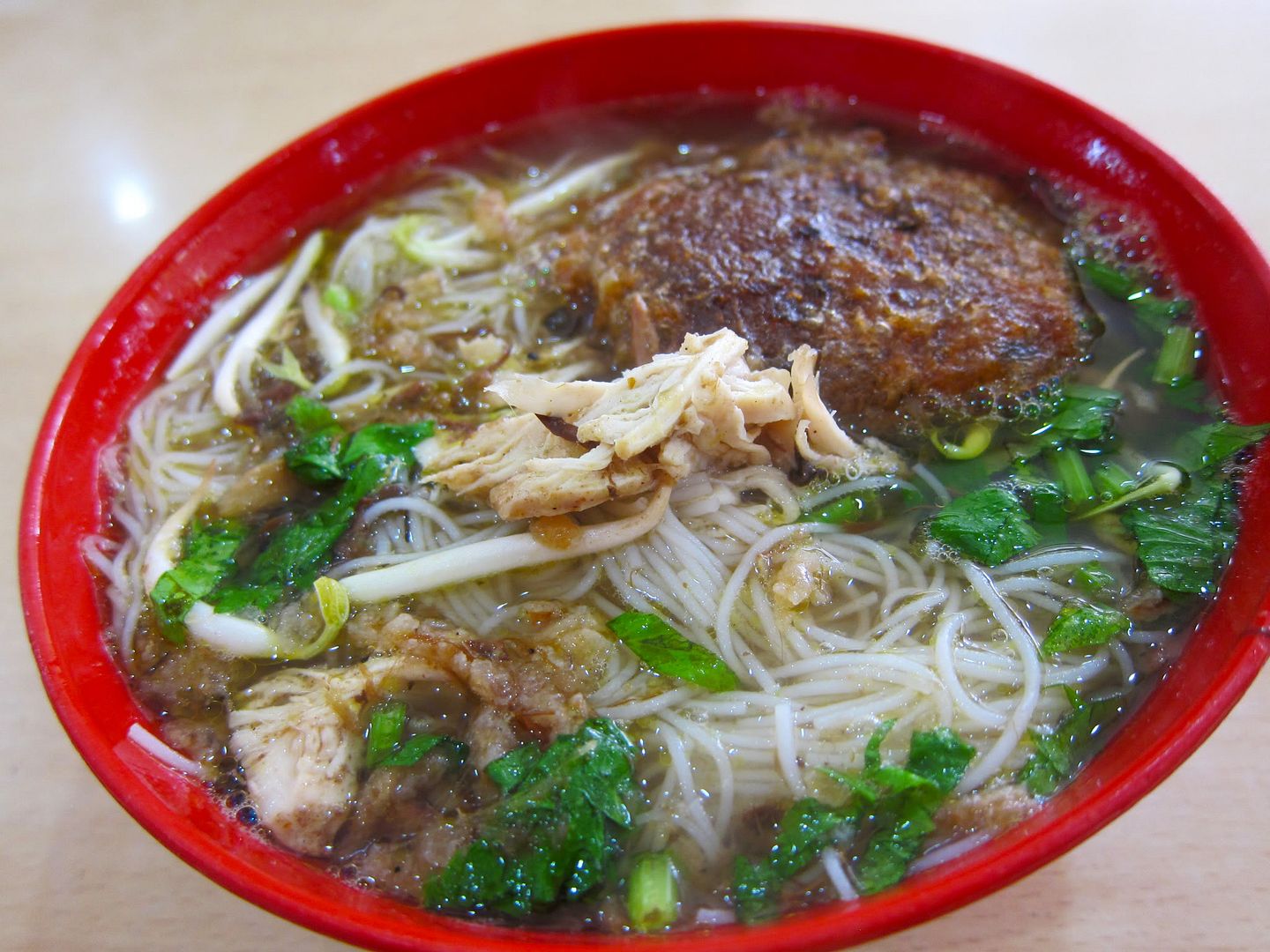 My Bee Hoon Soto
11:30am - Early Lunch Stop
Ole Sayang Nonya
Authentic Peranakan setting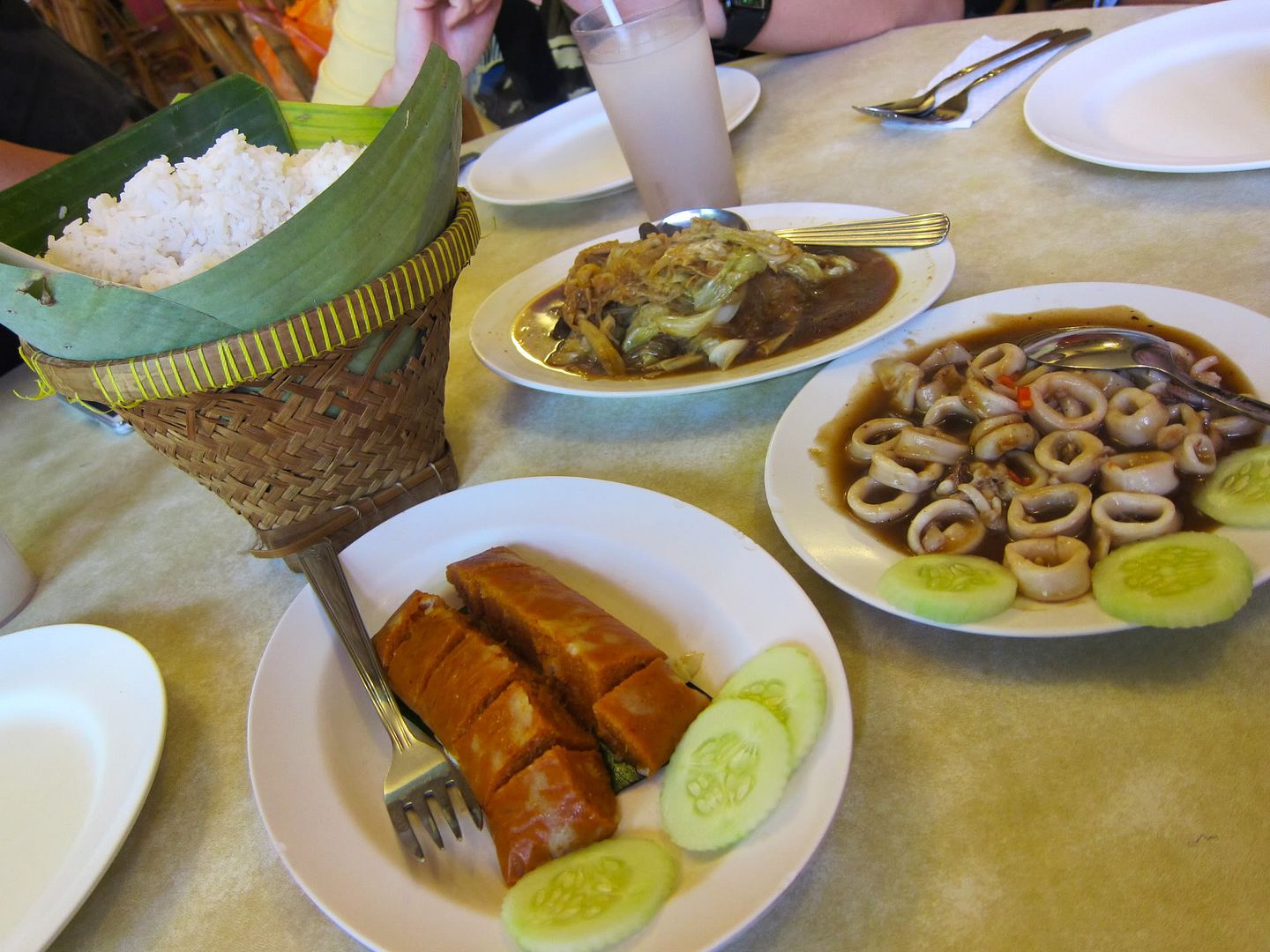 Ordering Rendang Chicken, Chap Chye, Sotong, Sambal Prawns, Omelet...
And the to-die-for Otak Otak!
1:00pm - Bee Bee Pineapple Tarts
About two streets away from Ole Sayang
If it wasn't for Gabriel, we would never have guessed that a small zinc roof house by the side of a small road was a homemade cookies factory!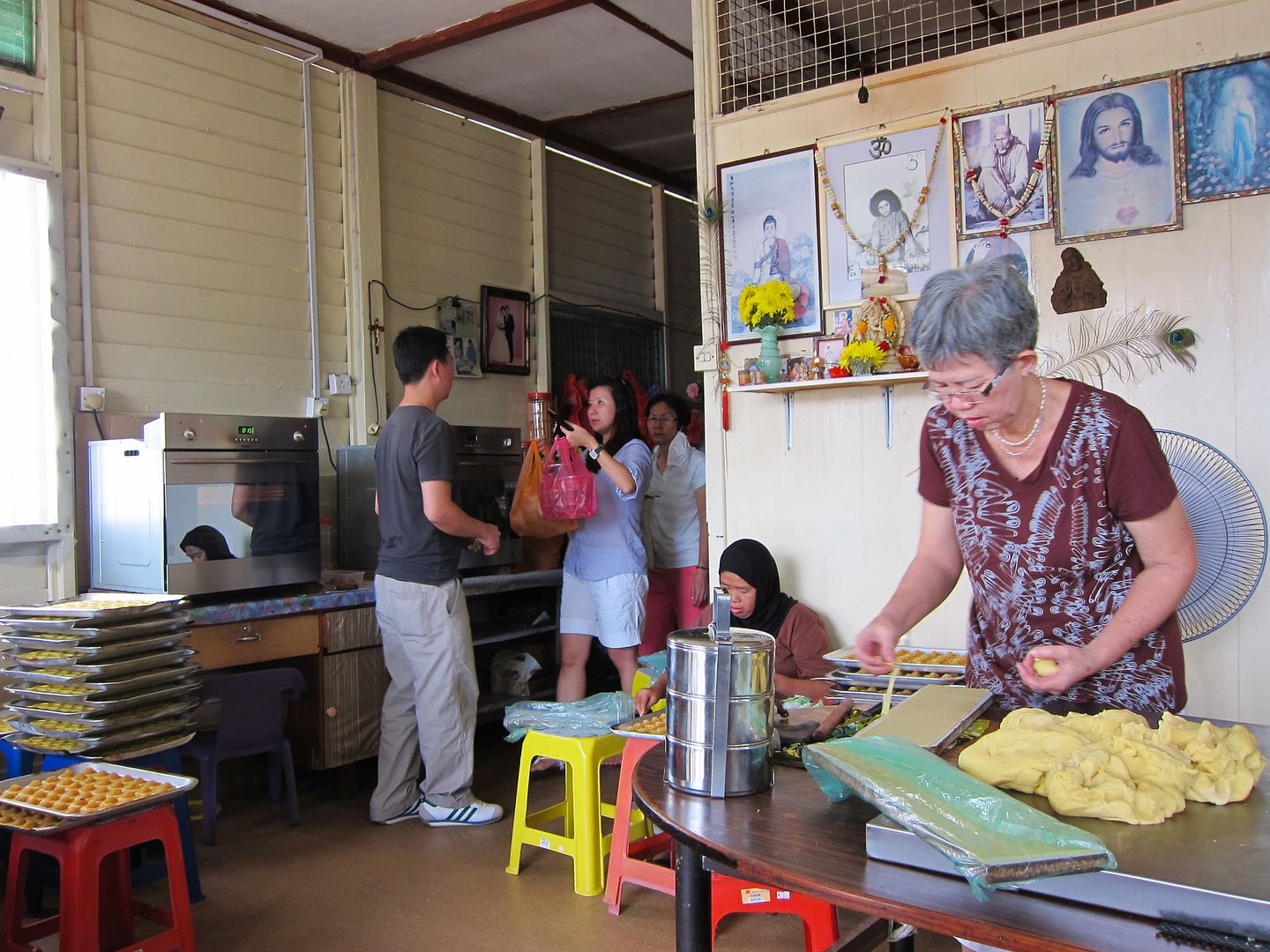 We are talking about serious output of freshly baked Pineapple Tarts, Kok Chye Cookies, Kuay Ban Cake and other imaginable New Year Goodie! The aroma entering the living room of the home was bakery divine! Seasoned Chinese and Malay aunties kneaded dough and twirled mixtures for the preparation.
2:00pm - Jonker Walk
Durian Spring Rolls, Durian Muar Chee Balls and Gula Melaka Ice Shavings
As far as I can recall, Jonker Walk remained much commercialized and instead of any heritage, you end up buying mostly Made-in-China stuff. I did however enjoy scouting through dingy
old stores cramped with toys from my childhood days
. Styrofoam airplanes, Chewing Gum with transferable water tattoos, Wooden Guns to shoot rubber bands... they were definitely nostalgic! Knowing these toys clearly defined the Gen-X and Gen-Y kids... as we found out through Gab!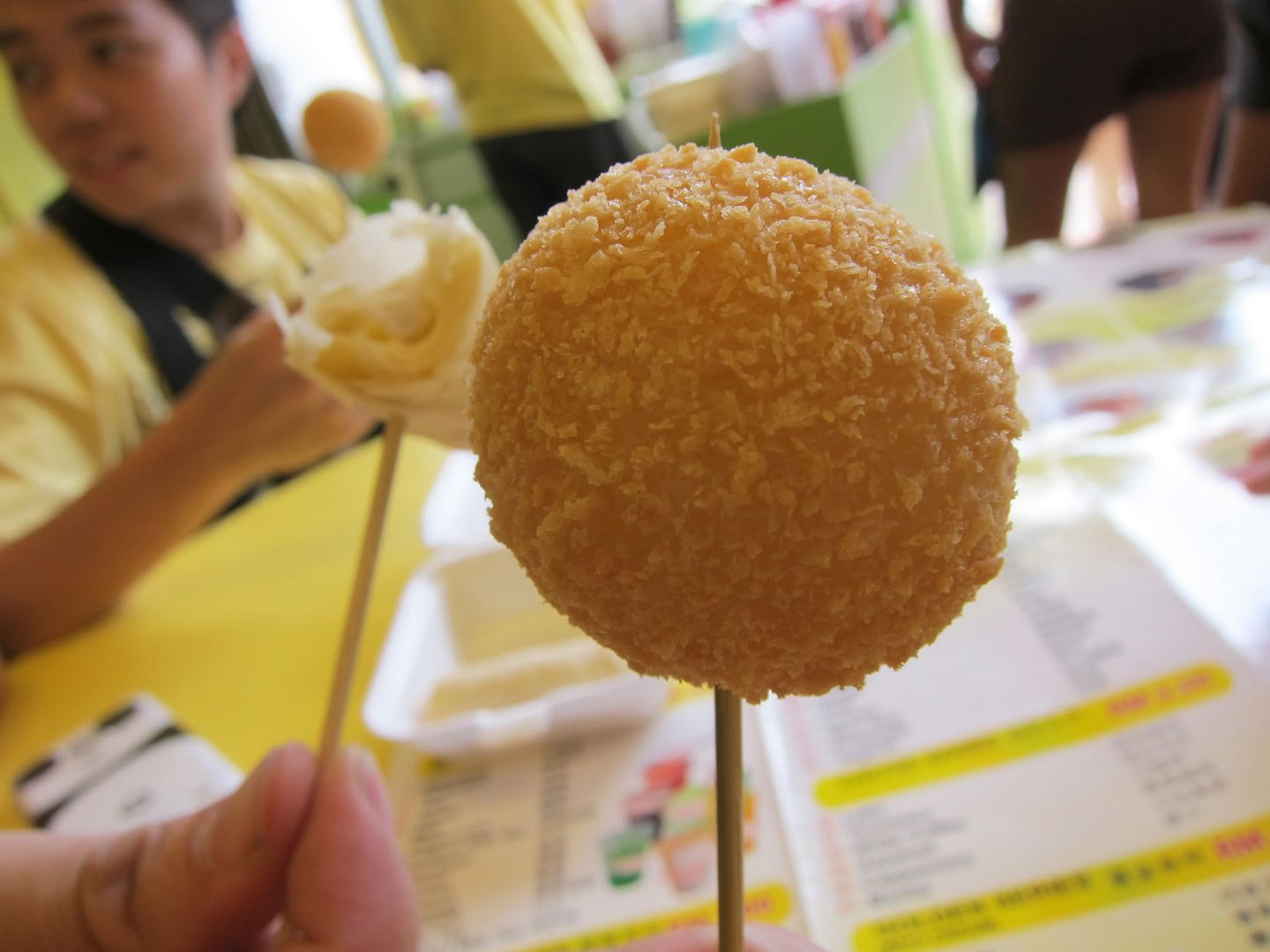 Suprisingly delicious deep fried Durian Spring Rolls and Durian Muar Chee Balls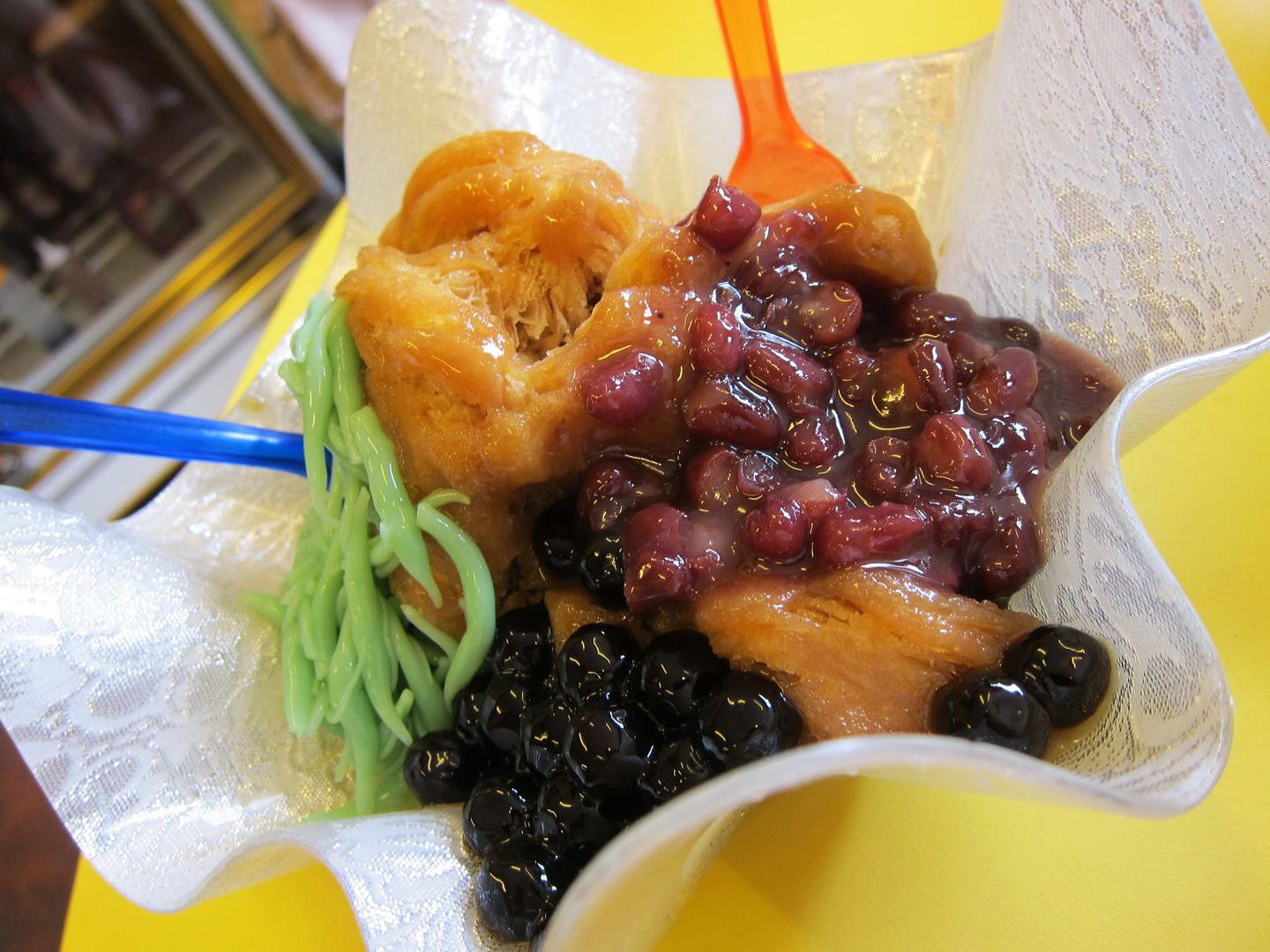 Gula Melaka Ice Shavings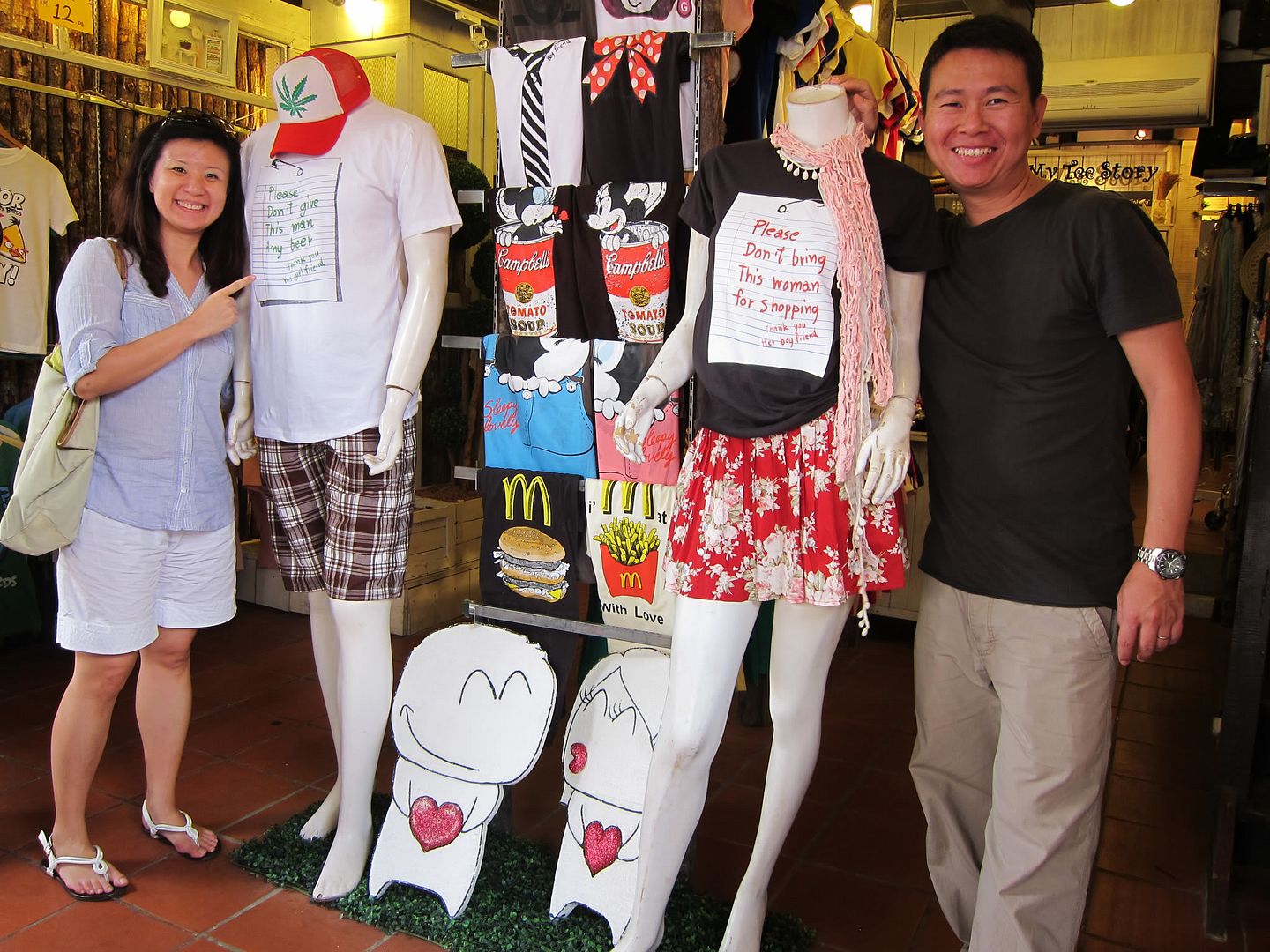 What Cat and Patrick regret not buying!
4:30pm - Ice Cream Break @ Patrol Kiosk
We had wanted to make a return Durian Stop, but we were rushing back to Singapore for Dennis' own birthday party which greeted us with even more food! It was a great day trip, but it would have been more ideal if we stayed a night. Besides even more EATING, we were told a cruise along the canal river is now very delightful.
As of now, I am officially 1.5kg above my usual weight! Serious Sigh!
More Malacca Food Day Road Trip 2012 Pictures
Read:
Category: Food And Drinks
Category: Travel
2007 Singapore Women's Cycling Team (SWCT) Hearts On Wheels (H.O.W) Charity